A Content Management System
A System for Managing Content
The goal of any CMS should be to gather enough information to present the content on any platform, in any presentation, at any time.
— Daniel Jacobson, Fmr. Director of Application Development for NPR
COPE: Create Once, Publish Everywhere
True CMS's are really just content capturing tools that are completely agnostic as to how or where the content will be viewed, whether it is a web page, mobile app, TV or radio display, etc.
— Daniel Jacobson
COPE: Create Once, Publish Everywhere
A CMS must be presentation agnostic. If it is not presentation agnostic, it is not a CMS.
By creating presentation-independent content that includes meaningful metadata, you'll set yourself up for a future where your content can go anywhere.
— Karen McGrane
Content Strategy for Mobile
A System for Managing Content and metadata
A CMS consists of chunks, and rules for managing chunks.
"Display" is just a special case of managing.
CMS tools
Taxonomy
Fields
Views
Rules
Panels
The basic unit of a CMS is the content chunk
Where does the edit form go? is a philosophical question
The answer varies per-site.
Is Drupal a CMS or a WPT?
Is Drupal a Content Management System or a Web Publishing Tool?
Is Drupal a System for Managing Content, or for Publishing Pages?
Is the "page" our basic unit of stuff?
It cannot be both at the same time
We don't need to answer that question now
We need to ask the question every day
in every issue
Because your answer is not my answer
Not just visual
Does the JSON for /node/1 have tids, objects, or strings?
Does the JSON for /node/1 include blocks?
What if they're stored as fields?
What if they're from Panelizer?
The "Drupal Learning Curve"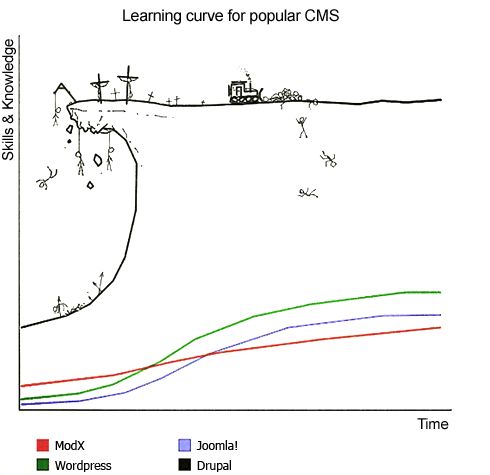 That's for WPT users trying to use a CMS